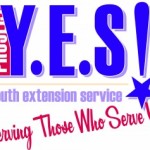 Project Youth Extension Service (YES) is a national internship program designed to meet the unique needs of National Guard and Reserve Component military youth impacted by deployment while simultaneously providing participating interns invaluable training, education, and experiential-learning experiences designed to enhance vocational awareness and career-planning. Project YES combines the needs of military-connected youth impacted by deployments with college interns looking to deepen their knowledge and gain real-world experience working with youth and teens. Project YES is supported by a partnership between the United States Department of Agriculture -National Institute of Food and Agriculture (NIFA) and the DoD Office of Employer Programs and Policy, Yellow Ribbon Reintegration Program (YRRP). This internship is specifically designed to increase and strengthen community capacity, increase professional and workplace development opportunities, and expand military-related youth development support programs.
During 1-year service periods, interns augment YRRP programs by facilitating age-appropriate, experiential-learning programs emphasizing leadership development, resilience/life skills, and STEM concepts. Additionally, paired with individually assigned mentors, interns complete a career-broadening project designed to help define future career options or, if already known, to help refine and deepen their experience levels. For over a decade, Project YES has grown steadily to meet the ever-increasing need for youth development program support. To date, Project YES has worked with 184 interns from 40 states, the District of Columbia, and Puerto Rico representing 104 individual public and private colleges and universities. They have served over 31,000 youth in 49 states, 4 US territories, and Germany. For more information, visit the
Project YES
 website or contact Dr. JC Johnson at project_yes@ncsu.edu.